Individual Life Insurance
Individual Life Insurance policies can provide a range of options from coverage for a fixed term of years, to permanent benefits such as tax-deferred savings and estate planning. The basic types of individual insurance are outlined below. GEBA's Insurance and Financial Consultants can help you determine the best plans for you and your family.
Financial Security and More
Life insurance is an important part of any financial plan. It can provide security for the people you love when you are no longer around. The death benefit is usually federally tax-free and can be used by your beneficiaries for a variety of things, such as paying burial costs and estate taxes, or ensuring that your children have money for college. In addition, you can use life insurance to create a legacy for the people you love and the causes you support.
You may benefit from an individual life insurance policy if you:
Need higher limits of insurance than are available through your group plan.

Want to leave a legacy to your children, grandchildren, institutions or charities you support.

Cannot qualify for group life insurance for health or other reasons.

Need a permanent death benefit to protect a special needs loved one or to assist in estate planning.
GEBA's Insurance and Financial Consultants can assist you in evaluating your needs and developing the right solution just for you.
Whether you have a specific need in mind or are ready to build an overall financial plan for your future, talk to GEBA's Financial Planners to get started.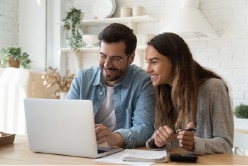 Group Term Life Insurance
GEBA's Group Term Life Plan is designed to help your family continue living comfortably in the unfortunate event of unexpected death – mortgage assistance, college tuition, or a comfortable retirement.
Types of Individual Life Insurance
There are two basic kinds of individual life insurance, as shown in the chart below: 
TERM
PERMANENT
Term Life
Whole Life
Universal life
Premiums
Level premiums for term or policy
Guaranteed level premiums for live
Flexible premiums for life
Cash Value
No
Yes
Yes
Loans/Withdrawals
No
Yes*
Yes*
Coverage
Specific term is defined by the policy selected, generally 5 to 30 years
Life**
Life***
Cash Value
Investment Risk
None
Insurance company bears risk
Insured bears interest rate risk
Commonly Used For
Income Replacement
Income Replacement
Supplemental Income
Estate Planning
Legacy Planning
Income Replacement
Supplemental Income
Estate Planning
Legacy Planning
* Loans and withdrawals will decrease the cash value and death benefit.
** Provided all premium payments are made and loan indebtedness does not lapse the policy.
*** Cash value must be sufficient to pay monthly deductions or a guarantee needs to have been chosen at enrollment.
Individual Term Life Insurance
These policies last for a certain period of time, usually five to 30 years. Term policies only pay if you die before the end of the term; otherwise they pay nothing. Term life insurance can offer a cost-effective way to make sure that your loved ones have funding for specific needs, such as college or a mortgage, over a finite time frame if you die. Once these needs have passed, you may no longer need the coverage. The premiums are usually less – and often much less – than premiums for permanent life insurance. Also, if you are young and in exceptionally good health, individual term life premiums may be lower than the group plan can offer. Learn More>> 
Permanent Life Insurance
Unlike term life insurance, permanent life insurance covers you for your entire life, as long as you stay current on your premiums. Permanent life insurance is often used for tax and legacy planning as well as for funding trusts for special needs dependents. Most permanent policies have a savings component that allows you to accumulate cash value on a tax-deferred basis. The premiums are higher – and can be substantially higher – than the premiums for term life insurance.
Whole Life Insurance covers you from the day you buy the policy until you die, generally with level premiums. A whole life policy accrues cash value on a tax-deferred basis that can increase the value of the death benefit. You can access any available cash value during your lifetime. Whole life insurance also can be a valuable tool in estate planning. Learn More>>
Universal Life Insurance combines permanent life insurance protection and cash accumulation with the convenience of adjustable rates of interest, premiums, and payment schedules. Universal Life allows you to vary the amount of your coverage to reflect your life situation. Once your policy has accumulated sufficient cash value, you can adjust your premium payment or take cash withdrawals and loans. It is important to note, though, that loan withdrawals, benefit and premium adjustments, and the performance of the underlying portfolio can affect your premium or coverage later on. Learn More>>
Survivorship Life Insurance, also called "second-to-die" life insurance, covers two people under a single policy and pays the benefit upon the death of the second person. Usually the premiums are less than they would be for two separate policies with the same coverage amount. Survivorship Life Insurance coverage is often used when a husband and wife wish to fund a legacy for children, grandchildren, charities or institutions they support because this type of insurance allows individuals to maximize the life insurance benefit. Learn More>>