Long Term Care (LTC) is the assistance you need when you can no longer care for yourself. People are living longer than ever before, but with longer life often comes the need for support in later years.
The fact is, about 70% of people over age 65 will need some kind of long term care services during their lifetimes, and 40% will need care in a nursing home.*
When you consider several other realities, Long Term Care Insurance can help you maintain your independence and relieve financial and caregiving pressure on your family:
Traditional health insurance including Medicare and Medicaid do not cover long term care costs.

Family members may not live close by to help provide care.

Long term care can span years – and can be extremely expensive.
We all have financial goals and dreams. GEBA's personal financial advisors have the expertise and experience to get you there.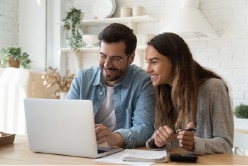 Group Long Term
Disability
What Does it Cover?
Long term care benefits a person in the event he or she suffers from a prolonged physical illness, a disability, or cognitive impairment. It is designed to help pay for assistance with daily living including bathing, dressing, eating, toileting, and taking medications over a period of months or years. It can pay for home health care, respite care, hospice care, adult daycare, assisted living facility, or nursing home services.
Why Should You Buy Now?
Because rates are based on age and health, it's best to start shopping for a policy when you're younger and healthy. The ages between late 40's to mid-60's often makes sense. You can buy a policy at 65 or even older, but expect to pay considerably more. Plus, if you wait too long and develop health issues, you may not qualify.
The Rising Cost of Care
Because long term care is not covered by traditional health insurance or Medicare, the costs fall to you and your family. It can wipe out your retirement savings and create a significant financial burden for your loved ones. The cost projections in the table below are for a resident of Maryland. Do you have enough saved to cover these costs – on top of your normal household expenses? Long Term Care Insurance premiums protect against the risk of much larger out-of-pocket expenses in the future.
Long Term Care Insurance: Cost of Care
| Types of Long Term Care | Annual Cost in 2018 | Annual Cost in 10 Years | Annual Cost in 20 Years |
| --- | --- | --- | --- |
| Health Aide | $50,908 | $66,416 | $91,946 |
| Adult Day Care | $20,800 | $27,953 | $37,567 |
| Assisted Living Facility | $56,070 | $75,353 | $101,269 |
| Nursing Home, Semi-Private Home | $110,778 | $148,876 | $200,077 |
| Nursing Home, Private Room | $116,070 | $155,988 | $209,635 |
Source: Cost of Care 2018 Survey, median costs, and projections for Maryland. Genworth Financial, Inc., available at www.genworth.com.
Types of Long Term Care Insurance
A traditional plan covers long term care only. These plans provide the greatest stand-alone coverage, but they don't offer other benefits. A Shared Care plan allows two people (usually spouses) to share benefits across both of their policies. Hybrid plans combine long term care with other benefits like life insurance or an annuity. Shared or hybrid plans help solve the "Use it or Lose it" concern by allowing your money to be used for other purposes if you don't require long term care.
These offerings can get complicated and there are even more ways to structure and fund your long term care than are listed here. As a GEBA member, you have access to long term care and financial planning experts. You can talk to them confidentially to figure out the best way to plan your future.
Traditional Long Term Care Insurance
Traditional long term care plans were developed specifically to help pay for assistance with the activities of daily living that other insurance and Medicare does not cover. Long Term Care Insurance charges a fixed premium* to protect against the risk of much larger out-of-pocket expenses in the future. Your cost (premium) depends on several factors including age, health, and family health history. You also have the flexibility to tailor your policy to meet your needs and budget: 
Benefit period: The maximum amount of time the policy will pay benefits for care (e.g. 3 years).

Daily/monthly benefit: The maximum daily or monthly amount your policy will provide toward the cost of long term care.

Elimination or waiting period: the time from when your care begins until policy begins paying (e.g. 90 days).

Inflation rider: A provision that helps benefits keep pace with the increasing cost of care.
Shared Care Long Term Care Insurance 
A policy shared with a spouse or partner is a way to hedge your bets — you never know which of you will need care and for how long. A Shared Care Long Term Care policy gives you one larger pool of coverage that can be used by either or both spouses. Premiums are typically less than it would cost for two separate policies with a similar level of total coverage. 
Life/Long Term Care Insurance Policy
A Life/Long Term Care insurance hybrid plan is designed to pay out long term care benefits if long term care is needed, and a death benefit to your beneficiaries if long term care is not needed. It is structured as a Universal or Whole Life Insurance policy that requires underwriting, plus the Long Term Care rider. If the long term care benefit is used, the death benefit is reduced. If not, the full death benefit goes to your heirs tax-free.
Annuity/Long Term Care Insurance Contract
An annuity is a contract for a structured series of payments that are normally purchased with a lump sum investment. The contract provides all the security and benefits of a fixed annuity, along with enhanced benefits if you need qualified long term care services. If you need access to funds for a predictable income stream, then it works just like a deferred annuity with guaranteed payments for a lifetime, a fixed number of years, or both.
An Annuity/Long Term Care Insurance hybrid plan incorporates a rider that increases your payments in the event you require long term care. Usually, the long term care coverage is 200 to 300 percent of the annuity benefit. You receive annuity payments whether or not you end up requiring long term care. 
GEBA Can Help You With the Protection You Need
Long term care is an important part of your overall financial plan. Explore your options with GEBA's Financial Advisors and Long Term Care Specialists. GEBA can help you understand and compare all of the options available to you including the Federal Long Term Care Plan.
 To schedule an appointment, call GEBA at (800) 826-1126 or email us.
If you are a Long Term Care policyholder who is being billed by the carrier, it is necessary to contact the carrier directly.
CNA (policies issued after 1990):
(800) 775-1541
CNA (policies issued before 1990):
(800) 447-4982
John Hancock:
(800) 377-7311
Genworth:
(800) 456-7766